When it comes to manufacturing, data is king.
A driving force of Industry 4.0, data helps manufacturers across a wide range of industries make informed decisions, optimise their production processes, and ensure quality standards are met. 
But in order for this information to be useful, it needs to be collected, analysed, and shared effectively.  And if this data is siloed, it can have a significant impact on quality management.
What exactly is siloed data? 
Siloed data refers to data that is isolated or segregated across different departments, systems, or even individual employees. 
This can be caused by a lack of communication or collaboration between departments, differing processes or using different software systems that are incompatible, or even personal preferences of employees to keep data to themselves.
Segregated data creates disconnected views of the entire manufacturing process, from the moment a customer places an order, straight through to the product going through to shipping. This in turn impacts the decision making process, as there's no unified view and all decisions are scattered. 
Take the quality management process for example. Delivering excellent quality products defines a manufacturer and their brand image . Thorough quality control ensures that every product is produced to the right level of specification, allowing manufacturers to develop products of the highest standards, catapulting them to industry leaders. 
The power of integration
However, in order for quality management to work, accurate information needs to be collected, analysed, and shared effectively up and down the chain. 
Manufacturers rely on ERP (Enterprise Resource Planning) systems, CRM (Customer Relationship Management) software, stock management systems, quality management processes and more. If these processes and systems aren't connected and talking to each other, working collaboratively is out of the question. 
More often than not, departments have tunnel vision and are limited by one view. Without a single source of truth, spotting inefficiencies from the moment an order is placed, straight through to shipping is impossible. 
Identifying those hidden opportunities for operational cost savings, or ways to streamline the production process is incredibly challenging when operations, production and cost data aren't consolidated. 
Eliminate siloed data with FLAGS 
This is where FLAGS Software comes in. Designed specifically for manufacturing, FLAGS integrates with a range of industry-standard ERP and MES systems for improved capabilities and data reporting. 
Giving manufacturers in automotive, aerospace, marine and rail complete traceability and visibility across the production process, making disparate data and systems a thing of the past. All data is easily accessed from a centralised dashboard, which can be accessed via a web browser. Information is updated in real time, and engineers, managers and any other authorised staff members can access the information they need, when they need it, at their fingertips. 
Bringing data visibility in automotive 
When a luxury car manufacturer approached FLAGS Software, they knew they had a significant problem with their data, impacting their terminology,consistency, reporting and decision making. 
At inspection level,  there was no consistency of naming conventions for defects between plants or even quality inspectors.  A 'dent' for one inspector, might be a 'dint' or a 'dip' for another. For a manufacturer with multiple plants across both the UK and worldwide this creates huge problems when comparing data.
Similarly, vehicle parts were often referred to inaccurately, making it impossible to quickly reconcile data and generate reports for a group of vehicles in a specific time period. 
The repercussions of this inconsistent data was also felt at a higher level. It was proving difficult for management to analyse the performance, time taken for rework, reasons for WIP and output from one plant to another. Different people would run the same report and get contrasting results.
With FLAGS Software, this manufacturer is now able to collate uniform data that's easy to understand at the click of a button. The quality and overall plant performance is measured using exactly the same indicators and terminology.
This company has since opened a new plant and – thanks to the scalability of the FLAGS Software – the quality control processes, terminology and report formats have been consistent with every other plant around the world from day one. Now, all vehicles and plants are measured to precisely the same global standard, leaving no room for error. 
Through highly visual reports, they are able to  bring data to life and allow for at-a-glance comparisons, and tailor dashboards to show each user the exact data they need to see. 
Traceability and visibility with FLAGS Software
When data is fluid throughout the entire quality control process, manufacturers get a complete view of every stage of the process, and understand the productivity and efficiency of every task. From this, they can identify the resources and support needed to further improve their processes.
FLAGS gives its customers visibility, control and traceability of the production process, and gives managers within the business access to a wealth of invaluable information to enable them to make informed decisions that will transform their productivity and profitability.
When manufacturers integrate FLAGS Software, they can create a complete Smart Factory solution. Speak to one of the experts today.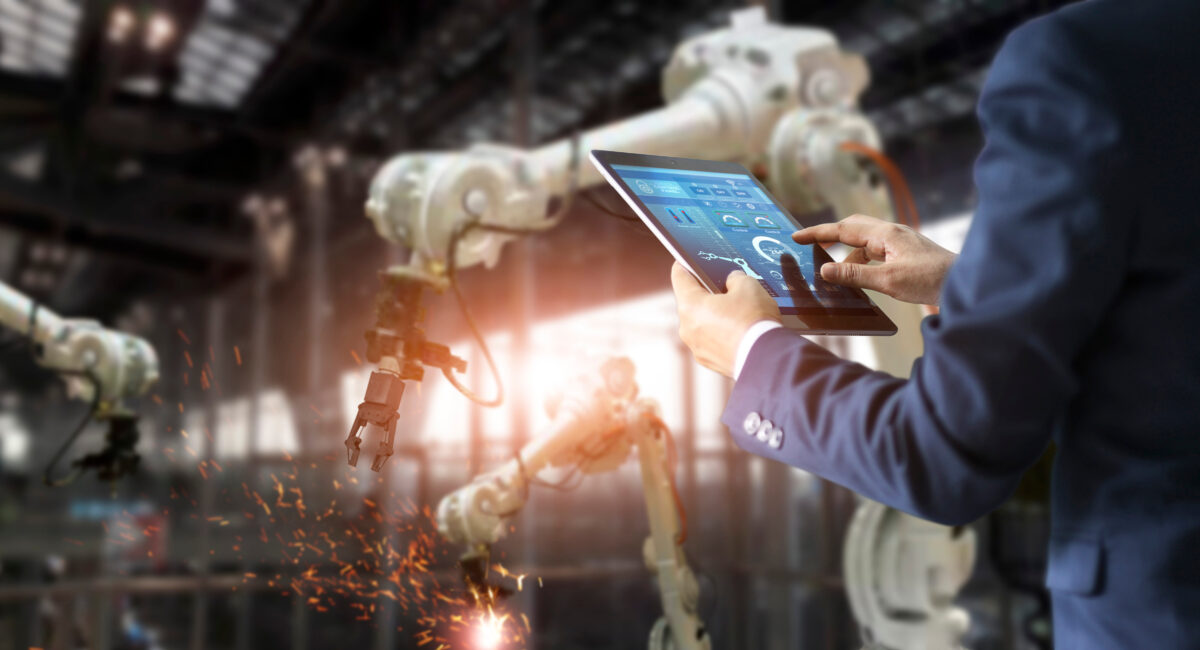 When it comes to manufacturing, data is king. A driving force of Industry 4.0, data helps manufacturers across a wide…
Read More